Scientists Discover What May Be Saturn's Last Moon
by Alan Cruz, age 11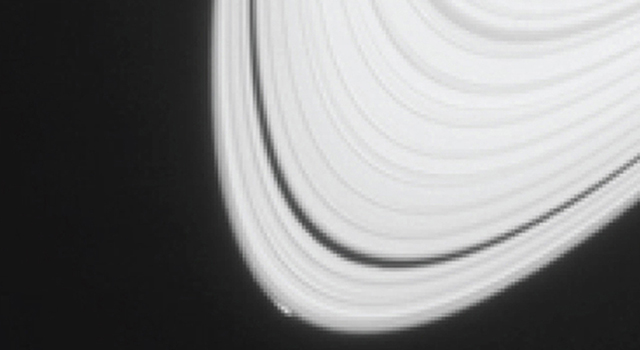 Saturn has 53 known moons, but NASA now believes that there may be one more.
Recently, NASA's space probe, Cassini-Huygens, spotted what may be a new moon in Saturn's outermost ring. Scientists have nicknamed this potential moon 'Peggy'.
With a diameter measuring only 0.5 miles, Peggy would be Saturn's smallest moon. No one knows how big it will grow over time. "We've never seen anything like this before," says astronomer Carl Murray.
Some, including Murray, even believe that Peggy may leave Saturn's rings and become an entirely independent moon. "We may be looking at the act of birth, where this object is leaving the rings and heading off to be a moon in its own right," says Murray.
Forming many rings and moons in the past 4.5 billion years as used up many of Saturn's raw materials. If Peggy is indeed a moon, it could be one of Saturn's last.
[Source: Time For Kids]