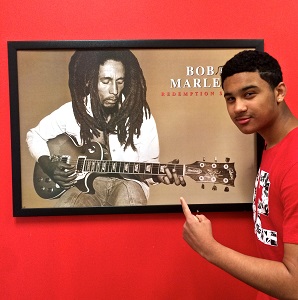 I have always been a big fan of music. In my free time, I enjoy listening to Latin pop, Bachata, Reggaetón, hip-hop, and salsa.
My dream is to become a professional singer just like Justin Bieber or Bob Marley. A couple weeks ago, I was at Simpson Street Free Press' South Towne newsroom when I shared my dream with Mckenna, an assistant editor. She responded, "don't quit your day job."
At first, I wasn't sure what Mckenna meant. I've heard other people—usually adults—use this phrase before, but I've never really understood its implications. Well, that day at the office, I learned exactly what it meant.
Mckenna informed me that, in this case, the phrase means I should not necessarily put all my eggs in one basket. Though I dream of becoming a musician, I should have a backup plan or two. Because there's only a slim chance that I make a livable wage as a musician, I should focus on academics and getting into college while keeping music as a passion and hobby.
Despite this lesson, I will continue to dream of stardom. But now, I also know that I need to have more than one plan in mind. And even if I won't end up playing music for my day job, I know it will always be a big part of who I am.