Madison Group, Former Packer Buys Isthmus
by Lucy Ji, age 17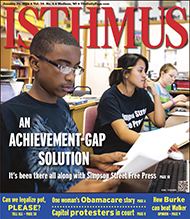 Co-founder and owner of Isthmus Publishing Company is selling to the owners of Red Card Media, an off-campus meal-card program for students.
In a post on the Isthmus website Thursday, Vince O' Hern announced the sale to a group including Craig Bartlett, Jeff Haupt, and former Green Bay Packer, Mark Tauscher. Bartlett and Haupt have local publishing experience with the Onion. Tauscher, offensive tackle for the Packers from 2000 to 2010, currently comments for Packers and Badgers radio broadcasts.
Though O'Hern and his wife, Isthmus associate publisher Linda Baldwin O'Hern, both plan to leave the business, they intend to stay in Madison.
O'Hern stated the sale was completed Wednesday. Sale terms have not been released.
More information regarding this sale can be found on the Isthmus website, The Daily Page.
[Source: Channel3000.com]