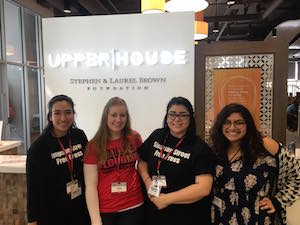 Last Saturday, a team of Simpson Street Free Press reporters headed to the downtown Upper House to attend the Kingdom Justice Summit put together by Door Creek Church. While most people might not willingly go to church early on a Saturday, we found ourselves awake--even dancing-- under the influence of the coffee and music. The 'worship team,' or church band, was made up of members of ten different local churches, a fact that exemplifies the spirit and unity of the event. Representatives of several different churches throughout the Midwest were among the conference's attendees.
The summit reflected on the idea of "Kingdom Justice" and how local citizens can act to support justice principles in their church communities. After being welcomed with music, we confronted the question of how we maintain faith, and react positively as citizens to tumultuous political times. To that end, we heard from several active leaders of organizations working with justice organizations. The keynote speeches didn't feel like lectures; they felt like conversations.
Scott Arbeiter, president of the World Relief foundation, spoke about the refugee crisis. Currently, about 65.3 million people are displaced by war and conflict, and about 35 thousand are forced to flee their homes everyday. That is the population of the entire Midwest. He then described the role of churches in welcoming refugees, many of whom are not Christian, and urged attendees to look beyond their fears, and recognize the humanity of the world's most vulnerable people.

Another keynote speech was given by Kathy Khang, regional multiethnic ministries director at the Intervarsity Christian fellowship. She started her career as a journalist and attended Northwestern. Her keynote speech described the ways in which people of color are impacted by current presidential administration's anti-immigration stances. She gave biblical examples to reinforce the need for white people need to stand up for the rights of people of color. She cited the example of Esther, who fought against the oppression of Jews in Persia.
"I'm tired of being your Asian American best friend!" she said, passionately, as she urged the audience to do their own research on Google about social justice issues that affect minorities.
As journalists of color, we appreciate the sentiment.

The final keynote speech was given by Roberto Rivera, an artist and educator and president of the Good Life Organization, who works with youth. He spoke about trauma experienced in communities of color in the wake of violence against men of color, and how learning about music production can be a portal for achievement.
The conference also had a series of breakout sessions touching on social issues and their intersections with the church. There was also a very interesting panel that focused on women in leadership in ministries and within the community, and a touching Hawaiian song and dance performance.
Even though we had to wake up a little earlier than usual for our Saturday shifts, we are so happy we attended the Kingdom Justice Summit. We felt replenished by the open and inclusive atmosphere and the enthusiasm for social change we encountered. We thank Door Creek Church for putting together the Kingdom Justice Summit. It reminded us of the incredible people power that exists in religious communities and the great impacts that can be made when these resources are wielded for social change.