The Stower Seven Lakes State Trail Is a Community Hub and Nice Place for a Stroll
by Sabrina Stangler, age 14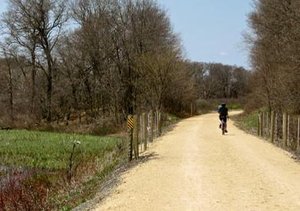 If you're searching for a natural place to visit this summer, consider a visit to the Stower Seven Lakes State Trail in central Wisconsin. The area attracts families, photographers and naturalists, serving as a place for family recreation, as well as an opportunity to observe the land's natural resources and unique wildlife. The 14-mile trail spans various forms of vegetation, including the often-rare lotus flower in some areas during the right time of year.
Along the trail, it's common to find assorted turtles, flowers, mammals like coyotes, and a multitude of birdlife. All share a variety of land formations, such as the seven lakes in the area, diverse woodlands, prairies, and wetlands.
Activities in the area center around athletic and social activities such as the Bike Ride, Nature Walk, Oktoberfest, Changing Colors Ride in the fall, and the candlelight cross-country ski event in January.
A particularly popular event in the summer time is the Seven Lakes Triathlon, which includes a 16-mile bike ride, a 3.5-mile canoe/kayak paddle, and a 3.1-mile run on the trail. This event attracts not only people from Wisconsin, but out-of-state competitors as well.
The area also supports some local businesses. There's a fairly popular restaurant in Wanderoos, housed in a building that had been the community schoolhouse from 1909 to 1967. There are also some local convenience stores in Nye where trail-goers are able to purchase food and beverages.
A three-part collaboration composed of the Department of Natural Resources (DNR), Polk County Parks and Recreation, and the Friends of the Stower Seven Lakes State Trail manage and operate the trails by providing guidelines and trail maintenance. The Friends participate on a volunteer basis with further support from donations, grants, and limited reimbursements from state trail passes.
The Stower Seven Lakes State Trail simply has it all. Whether it's bird watching along the trail or competing in the annual triathlon, families and naturalists come from near and far to experience the natural wonders the trail has to offer.
[Source: Wisconsin Natural Resources Magazine]