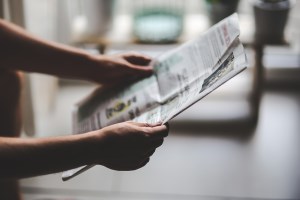 Critiques of news organizations have been at the center of recent political and public rhetoric. Nevertheless, a recent poll yielded promising results for the news industry: over half of the population is willing to pay for news.
This insight was collected during the "Media Insight Project," a collaborative effect of American Press Institute and The Associated Press-NORC Center for Public Affairs Research. It was conducted earlier this year from February 16 to March 20 and analyzed data from 2,199 adults.
The poll found that four in 10 people under the age of 35 pay for news. Additionally, young people expressed they are more likely to subscribe if they support the organization's mission, according to the study.
"There's this perception that people don't want to pay for news, especially young people, because they can get things from social media…we found that that's not true," said Tim Rosentiel, executive director of the American Press.
This might explain the steady growth in subscriptions to The New York Times, which reported that their subscriptions jumped from 309,000 in 2011 to 1.09 million in 2015. The following year they hit 1.85 million subscribers.
At a moment of high public concern about the reliability of online news or "fake news," The Times released an ad campaign highlighting the importance of journalism. One ad from the campaign dramatically spotlighted the sometimes-dangerous work of a photojournalist covering conflict between Iraqi forces and the Islamic State. This is one way that David Rubin, senior vice president and head of brand at The Times, said the paper focuses on building a relationship with the subscriber rather than focusing on raw views.
Chicago citizen John Ashford told the Associated Press he subscribes to news organizations because he feels that journalists are responsible for exposing the truth in many critical situations, including local issues with police brutality.
"People don't have the time and the money to investigate what's going on," said Ashford. "You have to have somebody to do it," he added.
[Source: Associated Presss]