Local Energy Companies Invest in Solar Battery
by Alan Cruz, age 17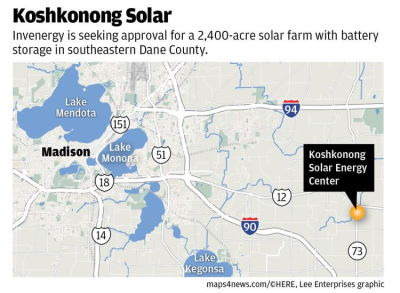 The purchase of a 465-megawatt solar and storage plant for Dane County is being considered by three Wisconsin utilities. Recently, Invenergy, a Chicago-based power company, submitted an application for a permit to build a 2,400-acre project in the villages of Christiana and Deerfield, Wisconsin. The companies hope to start power generation by the end of 2024, if the application is successful. Construction on the project, known as Koshkonong Solar, would start next year.
In late April of this year, three Wisconsin utilities -- Madison Gas and Electric, We Energies, and Wisconsin Public Service Corp. -- confirmed their interest in purchasing the solar-storage plant. However, the three companies are waiting to make a final decision about the purchase because Invenergy did not include a final price of the project in their application. The utilities must demonstrate that the service is necessary, and that its value would meet or exceed its cost.
Koshkonong Solar is a similar effort to others around the world that seek to limit the harmful effects of climate change by reducing the reliance on fossil fuels. WEC Energy Group would own approximately 90 percent of the project, splitting its ownership with We Energies and Wisconsin Public Service Corp., while MGE would own the remaining 10 percent. This was agreed upon when they filed a joint application to buy the Paris Solar Battery Pack in early February of 2021. These same companies have aimed to purchase a 310-megawatt solar and storage project in Kenosha County as part of their aspirations to replace coal-fired electricity in the county. WEC has its goals set on reducing its carbon dioxide emissions 70 percent by the year 2030, as outlined in its 2020 proposal to invest over $2 billion in renewable energy and battery projects over the next decade. With these plans in mind, WEC is looking to eliminate 1,800 megawatts of their fossil fuel capacity.
WEC isn't the only Wisconsin company that is pursuing this carbon reduction goal. MGE also plans to reduce their carbon emissions by 65 percent within the next nine years. Earlier this year, Jeff Keebler, the president of MGE, stated "We are transforming our grid for the future in a number of different ways, one of which is growing our use of cost-effective, renewable generation to decarbonize our energy supply." Along with reducing its carbon emissions, MGE hopes that its renewable energy projects will help stabilize long-term prices for consumers.
The companies have not yet stated how these acquisitions would influence their carbon reduction rates. However, they have said that these projects will help them fulfill their capacity needs and reach their carbon reduction goals. This potential purchase would also add to the companies' collection of other recent clean energy partnerships. These projects will provide a safeguard against future fossil fuel costs and help both utilities pursue their goals of producing carbon-neutral electricity by 2050 at a cost-effective rate.
[Sources: Wisconsin State Journal; Dane County]