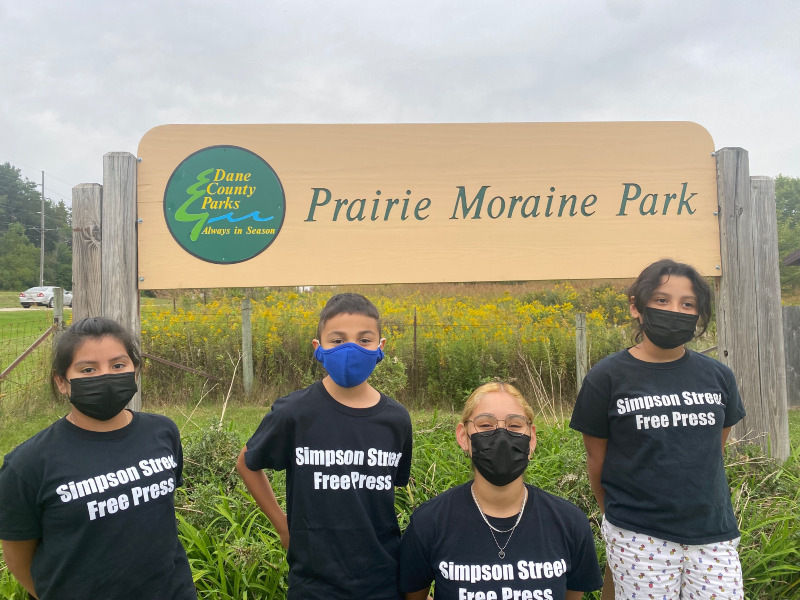 The Awesome Power of Glaciers Visible at
Prairie Moraine County Park
by Jules Da Costa, age 13
Have you ever heard of Prairie Moraine County Park? This park is a great place to enjoy beautiful scenery or simply take a walk. Prairie Moraine County Park is also known for having one of the best local dog parks and for its easy access to the Ice Age National Scenic Trail.
Prairie Moraine County Park is a 160-acre park. This park offers the chance to encounter Wisconsin's glacial history. Various ecosystems and habitats are evident in the park. Prairies and oak savannahs are easy for visitors to see. Because of interesting signage along the trails, visitors can also learn about the history of these ecosystems and see examples of restored ecosystems.
I visited Prairie Moraine County Park last summer with my Simpson Street Free Press colleagues. This summer I set out to explore further. The Prairie Moraine area marks the eastern edge of Wisconsin's famous Driftless Area. Learning the history of this part of Dane County (and other places like it) is really pretty neat.
Local volunteers and Dane County Parks staff work together on restoration projects at Prairie Moraine. The park has benefited from an active friends group for many years. At this Dane County park, ongoing efforts aim to restore the three primary natural resource ecosystems of this area. The primary ecosystems in the park include prairie, oak savanna/opening, and oak woodland. Volunteers and staff want to reestablish and foster these natural areas in order to provide a better habitat that will, among other things, benefit pollinator species like bees and butterflies.
Prairies are important ecosystems within the park because they can soak up a lot of rain, which helps enhance pollinator habitats. Oak savannas were once a common vegetation type in the Upper Midwest, but now are highly endangered. True oak savannas are now rare in Wisconsin. Oak woodlands were important to our state's early history. People would use these spaces to gather firewood and raise livestock.
Prairie Moraine County Park is also an excellent place to see and learn about Wisconsin's glacial history. A moraine marks the edges of a glacial advance. Lateral moraines are those formed at the side of the ice flow, while terminal moraines form at the maximum advance of a glacier. During the last Ice Age about 12,000 years ago, the late Wisconsinan ice sheet ground to a halt on the southwestern Wisconsin uplands.
Today, we call parts of western Wisconsin the Driftless Area because this region was largely left untouched by the advance of glaciers during the Ice Age. But you can see the effects of the glaciers on the local landscape throughout western Dane County and at Prairie Moraine County Park. The famous Johnstown Moraine, which extends southward in a broad curve through Adams, Sauk, Sauk, and Dane counties, is clearly visible within the park.
If you enjoy hiking, the trails at Prairie Moraine County Park are an easy way to connect with the Ice Age National Scenic Trail. Located entirely within Wisconsin, the Ice Age Scenic Trail travels for almost 1,000 miles through some of our state's most beautiful natural areas. The Trail is managed through a partnership among the National Park Service, the Wisconsin Department of Natural Resources and the Ice Age Trail Alliance.
Thousands of years ago, an immense flow of glacial ice sculpted the beautiful scenery of Wisconsin. As the glaciers retreated, they left behind many unique landscape features. These glacial remnants are now considered among the world's finest examples of how continental glaciation sculpts our planet.
To see and enjoy these natural wonders, I recommend a visit to Prairie Moraine County Park. It's more than just a beautiful and peaceful place, it's where you can learn about local ecosystems and the history of Wisconsin. If you're unable to go this fall, you still want to learn more, you could download the GeoTourist app.