Local teens Identify Fish in Pheasant Branch Creek
by Krista Reyes, age 14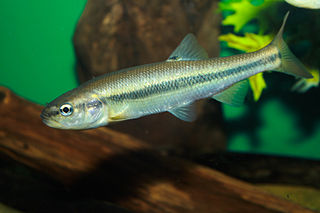 When Jacob Gillizter went to the Department of Natural Resources to get approval to fish in a local creek for a school project, he was told it would be a waste of time.
Dane County fisheries manager Kurt Welke said he assumed Gillitzer was told that because the Pheasant Branch Creek is not a popular spot for anglers, who believe there are no memorable or edible fish there.
Gillitzer, a freshman at Clark Street Community High School, ploughed ahead anyway, along with his peer Bryce Hollefelder. In their Flora Fauna class, the two boys were assigned to study the types of fish inhabiting the Pheasant Branch Creek and the numbers of fish caught in the area.
They struck gold when Gillitzer found this unusual fish with six horns coming out of its head.
"It's kind of freaky because it has the horns," he told the Wisconsin State Journal. Hollefelder, also ended up catching several of these strange looking fish. A friend of Jacob's father, Gary Gillitzer, identified it as a horned dace.
It turns out that the horned dace is a local name for a common creek chub, very common in Wisconsin. During mating time, the tubercles or horns grow on their heads.
Other fish they found include large mouth bass, trout, a crappie-bluegill, hybrid, bluegill, and other pan fish.
Gillitzer made sketches of fish found in the creek for a brochure and Hollefelder detailed information of what the fish eat as part of their final project.
The Clark Street Community High School is a project-based school where students are encouraged to interact with their environment.
[Source: Wisconsin State Journal]