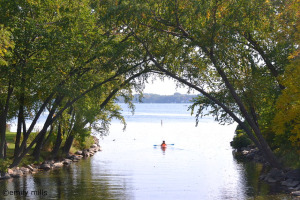 The Dane County Land and Water Resources Department has run a grant program since 2005 that helps municipalities clean up their waterways. They have helped fund over 60 projects: stormwater ponds, where water acts as a trap for sediment flowing into larger bodies of water, dry depression ponds that hold water while raining, underground chambers that trap trash and large chunks of sediment, and other creative ideas to prevent sediment and urban runoff from getting into lakes and rivers.
These grants are given to municipalities that wish to lower their urban runoff and improve their water quality by getting rid of phosphorus. To qualify for the grant program, the project must be completed in at most two years; it must be designed to fix an area that is not up to regulatory standards; and it must treat urban runoff. Once municipalities qualify for the grant, the Dane County Land and Water Resources Department will pay up to 50% of the project's cost, to a maximum of $500,000.
The Urban Water Quality Grant program works on stormwater management and erosion control, lake management, and monitoring the water quality and treatment of the water (e.g. making sure the water has little to no phosphorus and/or car grease). Staff check sites to make sure they are up to date with the water regulations and are not contaminating the water. The Land and Water Resources Department is also in charge of taking measures to prevent flooding and capture runoff before it reaches a nearby body of water. These include making ponds and other things like rain gardens, which are gardens with perennial flowers and other vegetation designed to soak up water and capture runoff from nearby areas.
The grant program has helped fund ten million dollars worth of projects that have cleaned up urban contamination. It has also prevented around 3,000 pounds of phosphorus from getting into the water, which in turn prevented the growth 1,500,000 pounds of algae. The program also stops around 993,000 pounds of sediment from getting into lakes and rivers annually. One of the impacts of the Urban Water Quality Grant is changing stormwater management from just flood control, to capturing the water and sediment in small ponds before it pollutes larger bodies of water.
Once these projects are in place, the municipalities maintain them, and if you want to help out, try checking if your community has volunteer groups that help keep the projects clean and in good shape. If your community is in need of projects like these, try talking to people at your City Hall about this grant. If you would like to know more, or apply for the grant, visit https://wred-lwrd.countyofdane.com/assistance/uwqg .
[Sources: Dane County Land and Water Resource Department ; Madison.com ]