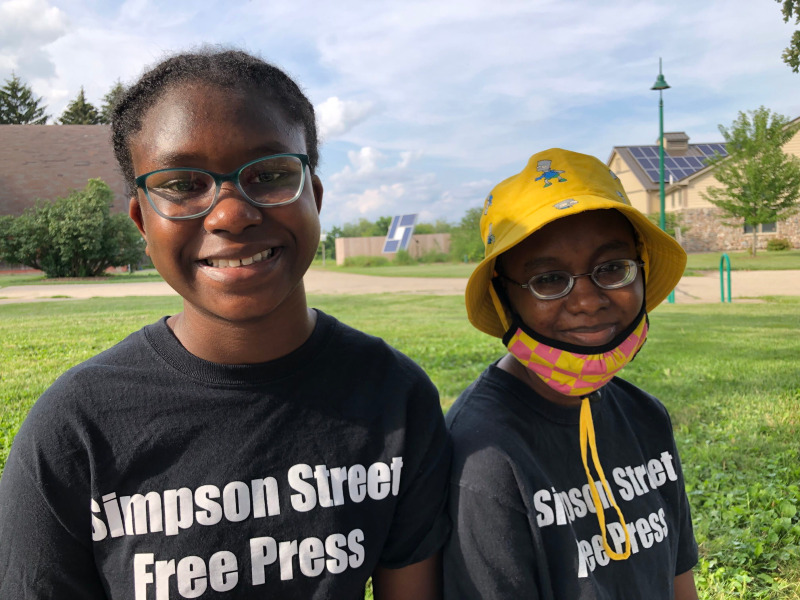 Learning About Whooping Cranes at the Lussier Family Heritage Center
by Aissata Bah, age 11
My sisters and I attended a recent event at the Lussier Family Heritage Center. On a nice breezy day, sitting under a tree, our presenter, Lizzie Condon, a Whooping Crane Outreach Coordinator at the International Crane Foundation, taught us all about the Whooping Cranes.
The International Crane Foundation was founded in 1973 in Baraboo, Wisconsin. Founders Ron Sauey and George Archibald wanted to protect cranes. Today's Crane Foundation has 15 different crane species in captivity. They work to keep cranes and their ecosystems safe, especially in wetlands and flyways. A Whooping Crane outreach Coordinator is someone who conducts outreach to communities and encourages people to share the landscape with Whooping Cranes.
Baby whooping cranes are called colts. When they are born the colts have to be "imprinted" on a crane or in rare cases, humans. Imprinting means when you are born you get attached with the first thing you see. As Condon explains, A colt needs a parent or surrogate to care for it or it will end up dying. According to Condon, a crane named Tex grew up with humans, so she imprinted on humans and would not mate with a male whooping crane. Then, one of the co-founders, Archibald, became her "mate." And she finally laid an egg through artificial insemination, which researchers named Gee Whizz.
Whooping cranes almost went extinct due to hunting and habitat loss. People hunted the cranes for feathers, food, and trophies. Climate change, human interference and construction also caused environmental loss. Their near extinction led to less than 30 cranes by 1940-1950, with only 20 in the wild. But, killing protected migratory birds (including whooping cranes) became illegal in 1918.
The population of cranes in the world is now 800. The International Crane Foundation continues to educate people and protect wetlands. For example, during the event at the Lussier Center we learned about what to do when if we spot cranes.
Every Week on Thursday at the Lussier Family Heritage Center, guest presenters teach people about lots of different things related to nature and the outdoors. The International Crane Foundation, located in Baraboo, also has new exhibits, visitor center, gift shop, support programs and membership opportunities. You can visit their website at, https://www.savingcranes.org/report-whooping-crane/.
I am glad I went to this event. I enjoyed learning how we can help whooping cranes, and all of Wisconsin's crane species, remain healthy in our state. The Lussier Family Heritage Center offers a range of interesting programs and events throughout the fall. You can learn more by visiting the events page of their website.