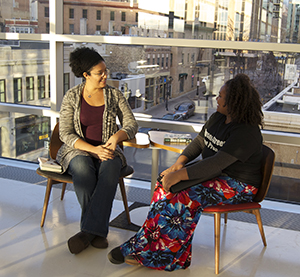 I recently had the opportunity to interview historical fiction author Kekla Magoon at the Madison Public Library. She is best known for her book Fire in the Streets, which is about a girl named Maxie who wants to join the Black Panther party. Prior to meeting with Magoon, I read her book, made a book trailer for it , and wrote a review about it . I really enjoyed talking to Magoon and listening to what she had to say.
I was able to ask her plenty of questions and she offered detailed responses. My favorite question was about how she collaborated with Llyasah Shabazz. Shabazz is the author of X, and the daughter of civil rights activist Malcolm X. Magoon told me how Shabazz wanted to tell the story of her father. To do so, Shabazz wanted the help of a novelist. Magoon was the right fit.
I was so glad to meet Magoon after engaging with her book in so many ways.

You Can Click Here to Watch Aubrianna's Interview with Kekla Magoon!