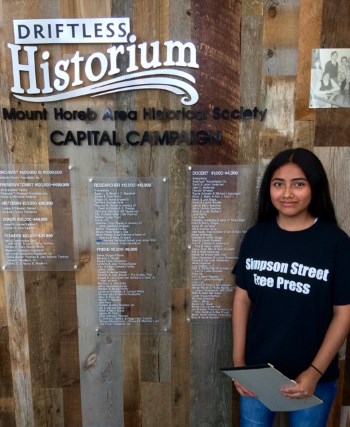 by Jospeha Da Costa, age 12 and Abigail Luna, age 15
We met at our South Towne newsroom early one Wednesday morning—most of us with droopy eyes and tired faces. It was early, but we were excited for the day's adventure: we were headed westward toward Mount Horeb to visit the village's new Driftless Historium & Mount Horeb Area Historical Society.
The Driftless Historium is kind of new. It opened on June 3, 2017. Located in the heart of Mt. Horeb, the space has a served a number of purposes over the years, from bowling alley to restaurant and hardware store to hotel. Today, it is a unique cultural destination with exhibits that explore the history of Mt. Horeb and surrounding areas of western Dane County.
We piled into two cars with SSFP editors Mckenna Kohlenberg and Sarah Useche driving. The ride to Mt. Horeb was eventful: loud pop music complimented the exciting journey through rolling farmland. We even saw EPIC's sprawling headquarters in Verona!
As we drove into Mt. Horeb—the entrance to the village's downtown was marked by four consecutive roundabouts—a series of odd, quirky troll statues appeared to greet us. We later learned from our Driftless Historium tour guides, Destinee Udelhoven and Johnna Buysse, that Mt. Horeb is well known for its trolls. Trolls are one way the village celebrates its Norwegian roots. Trolls are part marketing ploy and also an important symbol of Mt. Horeb's rich history.
We parked along Main Street and embarked into the village on foot. A left onto the charming South 2nd Street led us right to the Driftless Historium. One of our trusted volunteers, Shoko Miyagi, met us outside—she was just as excited as we were! Entering the museum, we were greeted warmly by Udelhoven and Buysse, who are the Historium's Executive Director and Curator of Collections & Education, respectively.
After a brief introduction, Udelhoven and Buysse led us into the museum's Community Education Room. This room features the gorgeous collections of local artists. We were lucky to see the creative pieces of Peggy Flora Zalucha, the first of four artists whose work will be displayed this summer. Zalucha creates collage-style works using a number of mediums.
Next, we visited a yet-to-be-named exhibit, where soon-to-be constructed spaces will take visitors through Mt. Horeb's early history. For example, Buysse showed us a space that will be dedicated to the village's early agricultural industry. We also observed the work-in-progress for an early 'schoolroom' type space. These exhibits will be completed soon.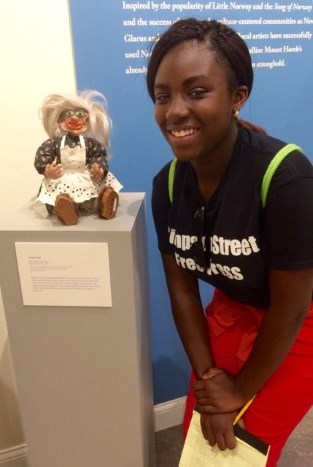 Udelhoven and Buysse then showed us the Historium's amazing Jim Town Store display. Here, we saw the kind of goods Mt. Horeb's earliest general store, dating back to the early 20 th century, would hold and sell. We were especially fascinated by the old letterboxes and phone inside of the display: it's so interesting to see the ways in which generations past communicated with one another.
After making a pit stop in the museum's storage space (holy antiques and artifacts!), we each took a turn at what quickly became one of our favorite exhibits—a Virtual Reality station where we could view the insides of Mt. Horeb's old Little Norway Building, which was once featured in the famous Chicago World Fair of 1893. Thanks to the hard work of staff and students at UW-Madison, this VR station enables viewers to have a glimpse into what Mt. Horeb was like decades ago.
Our editors had to pull us from the VR station but with good reason: it was time for lunch. We walked back to Main Street toward a retro diner called Shubert's, which has been a staple in the Mt. Horeb community since 1911. Over lunch, we discussed our fascinating walk through Mt. Horeb history and planned the articles we would write. We also slurped down some delicious vanilla milkshakes. Shubert's menu boasts a number of Norwegian favorites, and we'd definitely recommend it!
We left Shubert's with our appetites satisfied and our intellectual curiosities stimulated. While walking back to our cars, we visited a number of the famous troll statues lining Main Street. Some of them are huge, but others are small—like garden gnomes. Each has its own plaque and unique story.
SSFP staff and students had a wonderful experience in Mt. Horeb. From the village's captivating museum to its quaint downtown atmosphere, we loved every minute of our educational adventure. We are very grateful to Udelhoven and Buysse for a wonderful behind-the-scenes museum tour, and we can't wait to go back for more!
The Driftless Historium is open Wednesdays-Sundays from 10:00 a.m. to 4:00 p.m. We encourage all history buffs—and anyone seeking an interesting day trip—to visit this fantastic new museum!