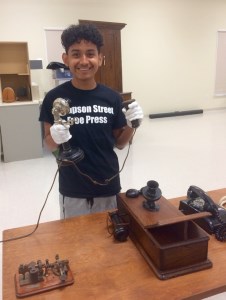 by Cristian Cruz, age 15 and Valeria Moreno Lopez, age 10
In the 21 st century, the world is at our fingertips. Smartphones provide the answers to any question imaginable in just a few seconds. These pocket-sized devices also allow users to connect with others almost anytime, anywhere. Yet while we may take them for granted, smartphones didn't always exist: inventors worked through decades of design to bring us the modern phone we have today.
This is exactly what Simpson Street Free Press students learned while at the Driftless Historium & Mount Horeb Area Historical Society. On a tour of the fantastic new Historium, our guide Johnna Buysse showed us the museum's main storage space, which sits a floor above its main exhibits.
Filled with antiques and artifacts original to Mt. Horeb and its settlers, the space—not technically open to the public—was an exhibit in and of itself. One table was set aside and not at all flashy, but it still caught our eye. On top of the table sat four phones, each from a different era in Mt. Horeb's history.
Right next to the table was a fascinating old telegraph machine. Buysse told us that in its day, this machine sent single-coded messages as electrical impulses through wires to other telegraph stations. Prior to the telegraph, which was patented and developed by Samuel Morse in 1837, long distance communication usually took place by 'snail mail.'
Decades later, Alexander Graham Bell changed the course of history and human communication when he invented the telephone. He made the very first call on this device on March 10, 1876.
Since Bell's original design, the telephone has evolved vastly. One early model of the phone, used from the 1890's to the 1930's, was called 'the candlestick.' It consisted of two parts: a mouth piece and a receiver, which users would hold close to their ears.
Telephone models following the candlestick were simpler and more user-friendly. The rotary phone, for example, required users to dial each number in a telephone number one-by-one. This invention led to the 'push-button' phone. The answering machine came next and revolutionized the rules of telephone etiquette in the 1960's.
Since then, and with the invention of mobile devices, landlines have become much less popular. From portable cellphones to BlackBerrys and the first touch-screen phones to the iPhone 7, most people nowadays seem to own a smartphone.
For young people like myself, it can be hard to imagine a time when people didn't have access to the latest in telephone technology. And that's why it was so cool to see decades of phones on display at the Driftless Historium. Viewing an old telegraph in person and iterations of phones past really made us appreciate the technology that is available today!