Who Put the "Dane" in Dane County?
Painting Takes a Long and Winding Road to its Home in Wisconsin
by Helen Zhang and Lucy Ji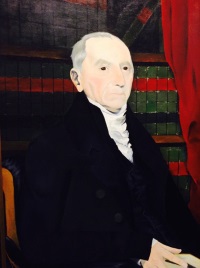 We recently made a trip to downtown Madison. Simpson Street Free Press writers, Lucy Ji, Alex Lee, and Helen Zhang, visited the City-Council Building looking for another piece of local history. What we found was a little-known treasure that is both history and art.
You see, this treasure has quite a story behind it. Unknown to most Dane County residents, is the story of how our county got its name. Dane County is named after Nathan Dane, a Massachusetts representative in the Continental Congress. Dane also helped draft the Northwest Ordinance in 1787. This landmark legislation eventually led to the development of Wisconsin and other Midwestern states. Just a year after his passing, in 1836, Dane County was established.
But this story has many twists and turns. How did a painting of Nathan Dane end up hanging in a downtown Madison office building? Keep reading.
Tim Kiefer attended UW-Madison and graduated from Harvard Law School in 1998. Since 2012, Kiefer is also a member of the Dane County Board. While studying at the Harvard law school library, a painting of Nathan Dane piqued his interest. It turned out that Dane was also a Harvard attendee and made a significant donation to the university. Coincidentally, Kiefer also lived in the Dane Hall dormitory at Harvard, which was named in honor of Nathan Dane.
"I had been led to believe Dane County was named for Danish immigrants," said Kiefer. It all clicked together when he realized that the county he grew up in was also named after this man.
In 2011, the 175th anniversary of the founding of Dane Country, Kiefer became interested in bringing the painting back to Madison. Regrettably, the painting was too fragile to travel. Determined to bring Nathan Dane back, Kiefer and the Harvard Club of Wisconsin searched for a current Harvard student, with Dane County ties, to paint a new portrait of Nathan Dane. Finding a student who fit these requirements was not a simple task.
Finally, in 2012, Neng Thao, a 2011 graduate of Madison Memorial High School agreed to the task. Thao, sophomore at that time, was studying genetic engineering and was leaning toward medical school. Besides academics, he was also an avid artist. Unfortunately, Thao preferred pencil sketches over oil paintings. After further research on Nathan Dane, he was thoroughly impressed and ultimately agreed to paint the portrait.
After several months of work, the painting was completed. After months of drying and other prep work, Thao's newly created masterpiece was ready to travel. It was the summer of 2013. The painting was officially unveiled in Madison this past winter during Thao's holiday break from Harvard. Everyone involved wanted him to be present at the ceremony.
To visit this impressive painting, go to the second floor of the City-Council Building. It hangs outside a conference room near where city council and county board meetings take place. This painting is impressive, and well worth a trip to downtown Madison. Equally impressive is the story behind the painting.
[Source: Wisconsin State Journal ]