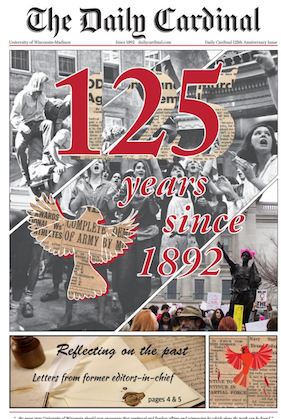 One of the University of Wisconsin-Madison's student-run newspaper, The Daily Cardinal celebrates its 125th birthday this year. Its first edition hit newsstands on April 4, 1892. Today, The Cardinal continues to publish local and national news online and in print.
The Daily Cardinal was founded by William Wesley Young, a Monroe native and UW-Madison's first journalism student, and William Saucerman. For the first month of publication, Young rode his horse down State Street to The Madison Democrat office to print The Cardinal . Topics covered by The Daily Cardinal included favored World War I efforts, radicalism, and left-wing politics.
Since its founding, The Daily Cardinal has become an institution. Over the years, The Cardinal has gained national acclaim among student newspapers. Its staff members frequently rank highly in newspaper competitions including the Society of Professional Journalists' Mark of Excellence Awards.
In 1969, a group of conservative students founded a rival paper, The Badger Herald , as a right-wing alternative to the paper. Today, neither paper has an explicit political focus.
Countless Cardinal alums have gone on to write for nationally-recognized newspapers, such as co-founder and editor-in-chief of The Onion , Scott Dikkers.
"What makes The Cardinal so unique is that they approach news [differently] by trying to find an unexpected angle," said Anthony Sansone, president of The Daily Cardinal Alumni Association in a phone interview.
Over the years, The Cardinal has faced financial challenges. In 1988, the University announced that it would shut down The Daily Cardinal 's presses. In 1995, the paper was forced to stop printing and suffered a seven-month shut down until the necessary funds were available to resume publication later that year.
In 2000, The Daily Cardinal published a story about the University's controversial choice to photoshop a black student's face onto a white Badger fan. The story won the 2001 Diversity Story of the Year for Student Journalism from the Associated Collegiate Press and The Los Angeles Times . In 2011, the paper added a Diversity Editor, the Free Press 's own Aarushi Agni, with the express purpose of creating content that delved deeper into the issues of underserved students and groups. Her award-winning coverage focused on campus climate about racial and ethnic minorities.
In 2015, The Cardinal announced that it would begin a new publication schedule, including two print issues per week and a new online platform.
Sansone said that Daily Cardinal staff, who are unpaid, are motivated by a sense of intrinsic reward and by documenting news that is relevant to the UW-Madison student body.
Current editor-in-chief of The Daily Cardinal , Theda Berry, said she started off working at the copydesk, where she edited the paper for spelling and grammar errors.
"Although I came to get editing experience, I stayed for the community and have formed some of my closest college relationships with fellow Cardinals," said Berry, in an email. "There's a camaraderie and welcoming feeling at The Cardinal that is still present in the office for me today."