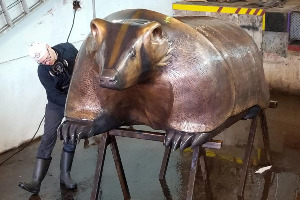 Harry Whitehorse, a world renowned Native American, carver and painter, worked with wood, metals, paints and snow to make art. The Ho-Chunk artist and native of Black River Falls, Wisconsin is well known for his sculptures, statues, and murals around the world. Ten of his pieces are included in the Madison area.
Whitehorse died in December, 2017, at the age of 90. His final piece was a sculpture named "The Badger." "The Badger" is a realistic representation of the Wisconsin state animal, which he made around 10 years ago. It will be replacing the current statue "Nails' Tales" on Monroe Street across from Camp Randall on August 21. "Nails' Tales" has suffered years of criticism for showing a figure of a corn or male anotomy on the ear of the statue. Hopefully "The Badger," which is a state symbol and the UW Madison's mascot, will bring Madison pride, the same way it does for Deb Whitehorse, Harry's wife.
Harry's philosophy regarding art was that he wanted people to touch his creations, instead of having them behind glass and out of reach. Students, football fans, and people who pass by will be able to touch the 10-foot-long statue's claws, a pointed nose, and dark eyes. The texture of fur is made with shiny bronze, while the back is wide and almost flat. This will allow people to not only touch it, but also to sit on top of it and be able to take photos. Harry dreamed that people would love the statue forever.
Vanguard Sculpture Services, an art foundry in Milwaukee, had been working with Harry for years and knew his intentions and visions. They made the final touches on the statue. Now, on September 13, there will be a dedication ceremony to acknowledge Harry Whitehorse and his statue.
[Source: Madison.com ]