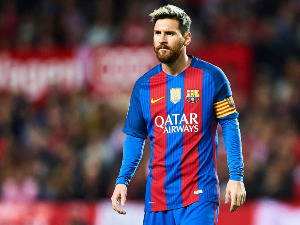 Lionel Messi is a World Cup champion and record breaker, Messi is known to many as one of the best soccer player in history.
Messi was on born on June 24, 1987 in Rosario, Argentina. He weighs 150 pounds and is 5 feet 7 inches tall. His net worth is estimated to be 80 million dollars. He has a family of two sons named Mateo and Thiago with his wife Antonella Roccuzzo. When he was a young, Messi played with his two older brothers and their friends. By the age of eight, he joined the Newell's Old Boys soccer club. After practicing his skill, Messi first played for the FC Barcelona at age of 16, He was the youngest player ever to score a goal for the group. He since led Barcelona to multiple champion league, La Liga, and Spanish Super Cup titles.
Messi also broke the record for most goals scored in a calendar year. After great success, Messi earned income in other ways. He made a movie called Messi and has worked with Adidas, Pepsi, EA Sports, Turkish Airway and more. In 2016 his team lost to Chile in the final Copa America tournament. Afterwards Messi stopped playing for the national team.
Later that year, Messi and his father were found guilty for not paying their taxes. He was sentenced to 21 months in prison, however, under Spanish laws if it's your first offence and receive less than two years sentence you don't have to go to prison. Messi paid two million dollars and his dad paid 1.5 million dollars.
Although he has his troubles, Messi is a very successful athlete who is a great role model to young boys.
[Source: Biography.com ]