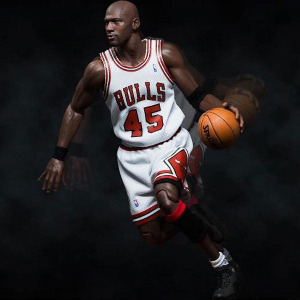 Michael Jordan is known as one of greatest NBA basketball players in history. In 1981, he joined the college basketball team Chapel Hill in North Carolina. In 1982, he scored the winning point against Georgetown University. In 1983 and 1984 he was awarded NCAA´s college Player of the Year. He was known as a strong and fast player and a strong leader. In 1984, he participated in the Olympics and won the gold medal for the USA team. Jordan's team, the Chicago Bulls, won their first NBA championship by defeating Los Angeles Lakers in 1990 and the Portland Trail Blazers in 1992. Jordan received the NBA Most Valuable Player Award five times and was inducted into the Naismith Memorial Basketball hall of fame in 2009.
Apart from being a highly awarded basketball player, he was a businessman and actor. Jordan stared in the 1996 movie Space Jam, and is also a company chairman for the company, Charlotte Bobcat. He collaborated with a variety of brands like Nike, Coca Cola, Chevrolet and many others.
Michael Jordan is more than a basketball player, now he is a businessman with enterprises that include a clothing brand, a basketball team, and a franchise of restaurants.
[Source: Biography.com ]