Mwai wins a $2,500 scholarship
from Summit Credit Union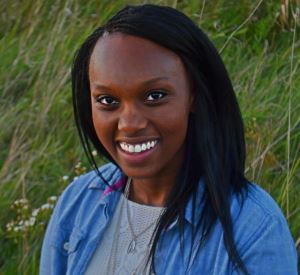 By: Andréanna Wright
Originally Published in The Lance
We all know that at La Follette, we contain a high number of people who are talented beyond belief. One of those people is a senior soccer player; the one and only Robin Mwai. She successfully composed three informative "Fool Proof" videos to teach adolescents about saving money for Summit Credit Union's Project Teen Money Competition. Satisfyingly, Mwai won the competition and her reward was a $2,500 scholarship. You heard me right, $2,500!!
Although Mwai won this competition, composing these three videos was easier said than done, "The most challenging parts were thinking of ways to make the videos interesting and creative, while at the same time giving accurate, useful, and relevant information. I also struggled a little at first with the idea of having a video of me that I made being shared all over the community. I don't do anything related to the performing arts or performance in general so I was nervous about that," Mwai commented. Even though creating these videos might have created a colossal amount of stress for Mwai, it was also a wonderful learning experience for her. "The best part was getting to see the cool videos that the other students made and learning from them. This program is so cool because it is teens teaching other teens about things we see as important and relevant. The research I had to do for my own videos was also an amazing learning experience. I think I got a lot of information about money management and financial literacy that will be very useful to me as I enter college and become more independent," Mwai added.
Summit's goal is to help teens save money. As you might know, as a teen it's hard to get your first paycheck and not think: shopping spree! Summit would love to help you save more, pay off debt, set goals and of course reduce your stress. Helping teens have a bright financial future is their highest goal. As a not-for-profit financial cooperative, the more you use them, the more you benefit from it. Anyone can join Summit Credit Union, and once you're a member, you're a member for life. Even if you move or change jobs, you'll always be able to enjoy the benefits of membership. By having the Project Teen Money it's easier for teens to understand why it's so important to be "money savvy" and Mwai's explanation clearly surpassed all of her other opponents.
Mwai is still not finished with her triumphs. "I will be attending UW-Madison and majoring in kinesiology," Mwai responded. Along with her triumphs, she hasn't stopped being busy at school. With being President for two organizations at
La Follette, (SAAC and Student Council) and participating in NHS, Restorative
Justice (circle keeper) youth court juror, playing on the varsity soccer team, and a athletic training intern; she clearly has her hands tied.
This competition has taken a lot of hard work and dedication on Mwai's part, which ultimately paid off. She is very grateful for the people who helped her along this daring journey, " I would like to thank my fellow lancers, Maggie Decker and Frankie Arriola for being in my videos! I would also like to thank all of the staff and students at LHS for being so supportive and sharing my videos. A huge thank you to Summit Credit Union for giving me the amazing opportunity to participate in this program! I would also like to add a shout out to La Follette High School family in general for making these past four years an amazing, insightful, and fun ride and I love being a Lancer! L's up baby!"