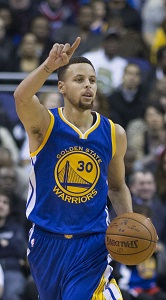 Wardell Stephen Curry II, more commonly known as Stephen Curry, is a professional basketball player for the Golden State Warriors and 2015 MVP (Most Valuable Player).
Born in Akron, Ohio, on March 14, 1988, Curry mainly grew up in Charlotte, North Carolina. Curry is the oldest son of retired NBA basketball player, Dell Curry and former Division One volleyball phenomenon, Sonya Curry. He developed his skills for and knowledge about the sport of basketball by watching and practicing with his dad but, when his dad wasn't around, he practiced with his mom.
Early on in his youth, Curry was recruited by dominant basketball programs. Even though he had a terrific start at Charlotte Christian School, he decided to enroll at a tiny college near his hometown called Davidson College, rather than at a larger school. At Davidson, he showed off his talent by scoring 32 points against the University of Michigan during his second game. Curry ended up earning the Southern Conference "Freshman of the Year" honors, too.
In addition to playing ball, Curry is also a very family-oriented man. He has two siblings: his brother Seth, who also pursued a professional basketball career after being a star at Duke University; and his sister Sydel, who played volleyball for Elon University. In July of 2011, Curry married his college sweetheart, Ayesha. The following year they had their first baby, a girl named Riley.
Since his time at Davidson, Curry has also shown a compassionate and generous side with his involvement in a United Nations Foundation called "Nothing But Nets." This organization distributes insecticide-treated mosquito nets across Africa to help combat malaria. Curry also raises money and gathers resources for schools through the Stephen Curry Foundation and hosts a pair of charity golf events annually.
As a young guy interested in basketball myself, it's awesome to have a role model like Stephen Curry. He shows that if you work hard, you really can do it all—play the game well, raise a loving family, and give back to the community in important and meaningful ways.
[Source: Biography.com ]