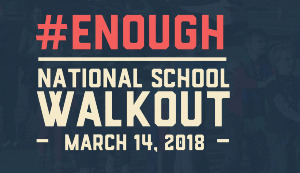 After the recent events in Florida, a group of students at Ray F. Sennett Middle School decided to speak out and teach people to be mindful and understanding about gun violence and school shootings. These students created a group called "Stop the Gun Violence" Power (S.T.G.V. Power).
On February 14th 2018, a man pulled the fire alarm at Marjory Douglas High School in Parkland, Florida, baiting hundreds of students out of their classrooms so he could assault the kids with a semi-automatic AR-15 assault rifle. Seventeen people died, 14 others were injured, some with life threatening wounds. An hour later, the police captured the shooter.
S.T.G.V. Power was created a week after the shooting. The group aims to spread awareness about gun violence, especially school shootings. They have hung posters around the school encouraging students and teachers to participate in the national school walkout for 17 minutes on March 14th to honor the 17 people that died in the shooting.
Even after March 14th, S.T.G.V. Power will continue to speak out against gun violence. This remains a crucial issue; 19 schools have already had shootings this year.
[Source: S.T.G.V. Power, Fox News ]