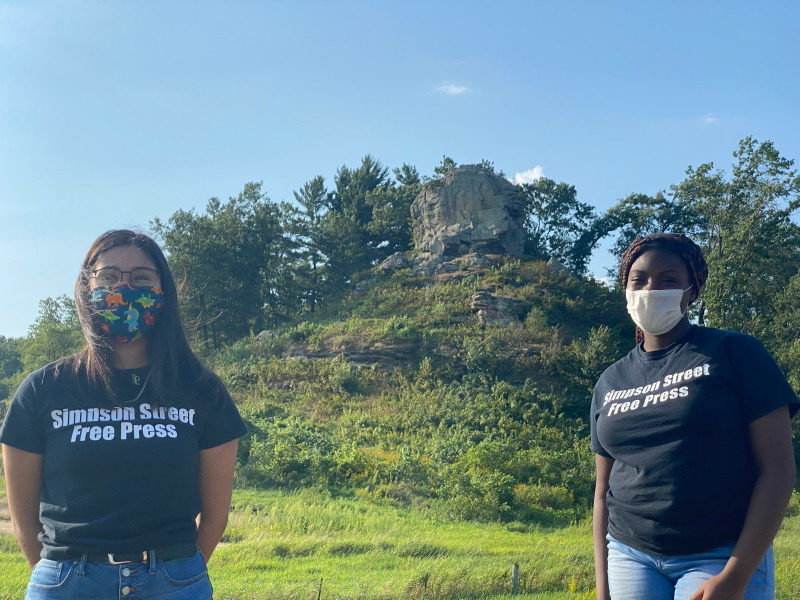 The Huge Rock that Towers Over Donald Park
by Desteny Alvarez, age 15
Donald Park is a beautiful park that has many features. But perhaps the most stunning and eye-catching is the big rock across the road from the park. It is named Donald Rock, also known as Preacher's Cap, and has been there for 450 million years.
We went to see this so-called "Rock" and found out it looks more like a small mountain than just a rock.
Donald County Park is a 775-acre park located in the Town of Springdale, southeast of Mt. Horeb. The park contains many oak woods and is known for its equestrian and hiking trails. The park is also known for three pristine trout streams: Deer Creek, Mt. Vernon Creek, and Frye Feeder.
A trail named Donald Rock Trail takes you to the rock, where you can see and climb to the top. It is located just across from the main entrance to the park. Donald County Park is located in Wisconsin's famous Driftless Area, a 10,000-square-mile region that was left untouched by four glacial advances and recessions over several millions of years. Wind and water erosion made the park's hills and valleys. In other words, this incredible piece of land was not shaped by glaciers, but by other forces of nature.
Donald Rock is a piece of St. Peter sandstone that remained after the continental seas retreated 450 million years ago. As the years passed, the rock was affected very little by erosion. It became a soft sandstone. The rock was a landmark for the native Ho Chunk culture, who visited the valley in pre-European times. In the 1800s, the rock was called Preacher's Cap by European settlers.
In 1952, the family of Delma Donald Woodburn donated the rock, named "picture rock" back then, and two surrounding areas to the Wisconsin Department of Transportation to be a scenic wayside. The department renamed it to Donald Rock to recognize the gift of Delma Donald Woodburn.
[Sources: Wisconsin Atlas and Gazetteer ; donaldpark.org; mountainproject.com; Dane County Parks ]