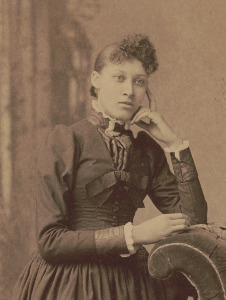 Described as a "majestic" and "luminous" journalist, Lillian Parker Thomas Fox is one of many Black women who were pioneers in the field of journalism during the 19th century. Publishing her sharp and poignant writing across the Midwest, Fox aspired to direct "human thought forward."
Born in Chicago, Fox moved to Oshkosh, Wisconsin with her family soon after her birth in 1854. She was known to be an avid reader and devoted student until her studies ended abruptly during her third year of high school when she became engaged and married.
Nonetheless, Fox continued her intellectual pursuits. She wrote many articles for Wisconsin's Black press, one of which fiercely called out American hypocrisy after the repeal of the Civil Rights Act of 1875. Fox wrote "You pity England with her Lords and Commons; Russia with its Czar and subjects, and yet practically acknowledge that you have a people among you of American birth whom you consider by God created for your servants, your inferiors by nature rather than by condition."
In 1885, Fox moved to Indianapolis, where she took a position at the Indianapolis Freeman , a nationally recognized Black newspaper. As the only woman journalist at the paper, Fox highlighted the need for racial and gender equality, declaring in one 1893 article, "The feminine heart yearns for broader paths wherein to walk, an intellectual highway whereupon all nations or sex may walk abreast."
Fox's activism was not confined only to print. She founded several women's groups in Indiana and could be found sharing stages with other Black women activists at various national women's conventions. On her way to one in particular in 1895, Fox refused to move to the "colored" section of the train, resulting in her being kicked off in the middle of the night. She sued the railroad company, but the results of the suit remain unknown to this day. This act, along with those of other Black women, would set the stage for Claudette Colvin and Rosa Parks take similar actions some 60 years later.
Fox went on to become the first Black journalist at the White newspaper Indianapolis News in 1900, though her byline was never published. Her works, however, were supported by others in the larger Black journalism community. Black journalists across the country often cited and crediting Fox when writing their own articles.
In 2014, nearly 100 years after her death, Fox was inducted into the Indiana Journalism Hall of Fame. Though Fox's story has been largely lost to our whitewashed, male-centered history, her contributions to the struggle were pivotal. Lillian Parker Thomas Fox is one of countless Black women who used journalism to cause change. Her accomplishments are evidence of her transformative work "directing human thought forward" and toward a liberated future.
[Sources: blackpast.org ; New York Review of Books ]