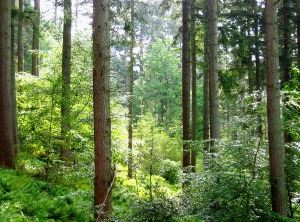 The Menominee people are some of Wisconsin's oldest residents and have practiced sustained-yield forestry on their lands for hundreds of years. However, due to laws and treaties set by the United States, the Menominee have had to fight to regain control of their forests.
The Menominee once held 9.5 million acres of land, reaching from northern Wisconsin to the Upper Peninsula of Michigan. Through a series of treaties, the federal government drastically reduced the territory to 235,000 acres including only part of northeastern Wisconsin. In addition, the Treaty of 1854 established the Menominee Reservation, the home of the Menominee Nation now known for its sustain-yield forestry practices. Today, 220,000 of the 235,000 acres are used for forestry.
Beginning as early as 1880, the Menominee people used sustainable practices. But it was not until 1973 that the Menominee Tribal Enterprise (MTE) managed forests. MTE works to create and protect sustainable production and practices throughout its land. Specifically, this organization ensures that forests are cut down in a way that meets peoples' needs but does not cause potential harm to the resources left for future generations. According to Menominee practices, only mature, dying, and dead trees are selected for lumber.
This sustained-yield method closely reflects the Menominee peoples' value of and respect for their environment and culture. In fact, the Nation is known as "Keepers of the Forest" and constantly works to balance society's economic needs and maintaining the diversity of the forest. Over the past 140 years, the Menominee have harvested over two billion board feet of lumber but, because of their careful management practices, the timber available today exceeds the amount available in 1854.
The policies of the United States government have often threatened the existence of the Menominee Nation. Therefore, the Menominee people have had to fight for the status and maintenance of their lands and forests. For example, in 1954, the federal Menominee Termination Act removed the Tribe's federal trust protection status, which forced the tribe to let go of its sovereignty as a nation. As a result, the Menominee had to manage a trust by themselves and pay taxes for their land, thus ultimately forcing them into poverty.
As a response to the damage caused by the Termination Act, the Menominee appealed to the government to return their tribal status. Thankfully, the Menominee Restoration Act of 1973 allowed tribal members to regain their authority, their rights over the forest, and their ability to fulfill their philosophy of land management – something we can all be thankful for now as we see the benefits of the Tribe's sustainable practices.
[Source: Wisconsin History Highlights: Delving Into the Past ]