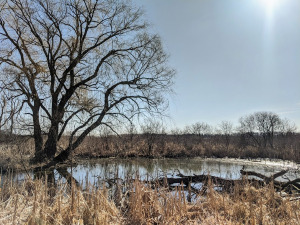 A Dane County land conservation group, Groundswell Conservancy, recently purchased 69 acres of wetlands in the Town of Dunn, south of McFarland.
Groundswell bought the property from Ken and Eileen Brost for $289,000 to supplement Dane County's Lower Mud Lake Natural Resource Area. Funding for the purchase came from the Knowles-Nelson Stewardship Program, Dane County Conservation Fund, Town of Dunn, and supporters of Groundswell.
With the newly acquired land, Groundswell looks to promote public recreation, which goes hand-in-hand with their mission of wetland conservation and provides permanent habitat for resident wildlife.
This exciting addition complements another local land purchase that occurred in 2019. Dane County bought 160 acres of prairie land to add onto the Pheasant Branch Conservancy in Middleton.
Dane County's forward-thinking action in land and water preservation continues to give younger generations hope for a greener future.
[Sources: Groundswell Conservancy ; Wisconsin State Journal ]