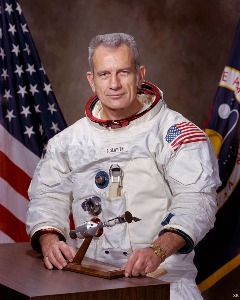 Neil Armstrong and Buzz Aldrin are well-known names in American history. However, there was another man, who was supposed to be on that flight and came from Wisconsin roots.
Donald "Deke" Slayton was born March 1, 1924, in Monroe County, Wisconsin. Slayton was supposed to take over the family business and his father's farm. However, he joined the Army Air Corps instead after graduating high school and flew 63 combat missions during World War ll. Slayton went on to earn a degree in aeronautical engineering and become a test pilot at Edwards Air Force Base.
In January 1959, two years after the Soviet Union propelled Sputnik into orbit, kicking off the space race, Slayton was called to Washington, D.C. for a classified briefing. He had been handpicked from more than 100 military test pilots. After completing multiple rounds of medical and psychological evaluations, Slayton joined Mercury 7, a group of seven astronauts selected to fly for Project Mercury,
Slayton's dreams of space exploration came closer to reality when his fellow Mercury 7 member, Alan Shepard, flew aboard the Freedom 7 in 1961 and skimmed the rim of outer space. President Kennedy congratulated Shepard and announced his goal of putting a man on the moon before the end of the decade.
Things took a turn for the worse, however, when doctors noticed an irregular heartbeat during one of Slayton's training sessions. They realized Slayton had atrial fibrillation, which did not affect his physical performance but made people in Washington nervous. Slayton was deemed unfit to fly just two years before his flight. He was pulled as an astronaut from Project Mercury and Slayton decided to return home to Wisconsin.
After hearing the news, the Mercury astronauts back in Washington all pulled together to make Slayton chief astronaut. John Glenn, the first American astronaut to orbit the earth, delivered this message to NASA administrator James Webb on behalf of all the Mercury astronauts, "We have three recommendations for chief astronaut. Deke Slayton, Deke Slayton and Deke Slayton (Barbree, 2014)." They were successful and Slayton stepped into his new role of chief astronaut.
Slayton's first task was to choose the second group of astronauts, as well as choosing members of the crew for each mission. When it came time for Apollo 11, Slayton told Neil Armstrong his other two picks for the team - Michael Collins as command module pilot and Buzz Aldrin as lunar module pilot. Armstrong very quickly informed Slayton he was fine with the team and the trio was officially announced for the Apollo 11 mission on Jan 9, 1969.
Even after the successful Apollo 11 mission, Slayton never lost his dream to one day make it to space. He gave up smoking, coffee, alcohol, and increased his vitamins in an effort to overcome his atrial fibrillation. After a full evaluation and an all-clear from cardiologist Hal Mankin, seven other doctors, as well as NASA administrators, Slayton was cleared to fly in 1972.
Although Slayton had missed the Apollo missions, there was an upcoming joint space mission with the Soviet Union. The project would improve inter-country relations, save money, and make international rescues possible. Slayton began to learn Russian to improve his chances and was selected for the Apollo-Soyuz flight in 1973.
Finally, on July 15, 1975, Slayton ate the tradition pre-launch breakfast of breakfast and eggs and blasted off into space. The two spacecrafts docked on July 17 and ground control heard Alexei Leonov, Soyuz cosmonaut say, "Soyuz and Apollo are shaking hands now".
Deke Slayton passed away in 1993 but his legacy as a NASA astronaut will live on.
[Sources: Lacrosse Tribune ; Madison.com ]