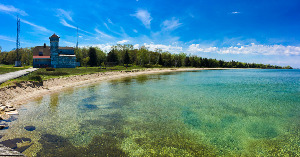 Plum and Pilot Islands, two small islands off the Door County coast had been apparently fading into the background of local people's daily lives for decades. However, in 2007 with the creation of Friends of Plum and Pilot Islands, a non-profit formed by local citizens, the fortunes of the islands began to change.
These islands have been important navigational reference points for ships from the sea-lanes putting into ports such as Milwaukee and Chicago for hundreds of years. In 1895, the US Congress funded a pair of range lights to be installed on Plum Island to assist ships in navigating safely through the Door Passage. Since then, more infrastructure was added to the island, including a lighthouse and the US Life Saving Service boathouse. The US Coastguard, as the Life Saving Service was renamed in 1915, staffed the island with a crew and boats for most of the 20th century. The range lights were automated in 1955, leaving the range light workers with nothing to do, so the staff was reduced. However, Plum Island still had Coastguard staff and boats until 1990. Now, the Coastguard crew is based on nearby Washington Island, and Plum Island has no staff at all.
Without its human occupants, Plum Island's installations were beginning to deteriorate. Thanks to Friends of Plum and Pilot Islands (FOPPI) and the US Fish & Wildlife Service, both islands are being restored. Visitors are not permitted on Pilot Island, and the only building on need of restoration is the Pilot Island lighthouse. Plum Island, however, has much more room for improvement. While many of the projects on Plum Island have to do with rebuilding roofs, officials say they have plans to create a visitor center, research facility, and museum. The entire restoration project is estimated to cost about $7 million. The government has not agreed to fund any more projects on these islands, which means the restoration relies on FOPPI.
"You've got to play a lot of different widgets when you put the puzzle together on this. We would not be able to function without volunteers and the assistance from FOPPI," said Steven Lenz, a project leader at the Horicon National Wildlife Refuge.
Lenz and other overseers envision Plum Island as a historical tourist destination. He hopes that it will become like Rock Island State Park with tours given by docents, as well as a center for research and academia. Officials want to create a place that is full of historical and cultural information.
"We want people to come out and enjoy the cultural heritage of Wisconsin," said Dustan Hoffman, a ranger who works for the Fish & Wildlife Service. "We want them to understand the roots of Wisconsin came down these island chains."
The history of Plum and Pilot Islands is one worth being told, and one that people should have access to. The restoration on the islands will hopefully transform them from two islands that people don't know about, to sites for learning and discovery about our history.
[Sources: Madison.com ; Wisconsin DNR ]