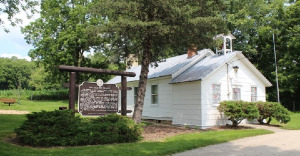 Located in Mazomanie, Wisconsin at the intersection of Highway F and Highway 19 is Dane County's oldest rural elementary school: Halfway Prairie School. From 1844 to 1961, Halfway Prairie School operated as a one room schoolhouse. It was not until 1964 that it became a part of the county park.
Prior to becoming a historical site, Halfway Prairie School opened each day at 9:00 am and was home to a small group of 25 students from first to eighth grade. Cleo Brockman was one the last teachers at the school. She took on the roles of teacher, nurse, and principle. There, she taught every subject, from math, writing and reading to science and physical education. The school environment was constantly supportive. Older students engaged with younger children and assisted them in different lessons and activities. Today, Halfway Prairie School remains as a memorable learning site for modern students. Though the school and its surrounding area are lesser known compared to some Wisconsin sites, Dane County has exciting future plans for the area.
According to County Executive Joe Parisi, Dane County recently made land purchases encompassing 74 acres around Halfway Prairie School County Park. This area surrounds the elementary school, one of the county's historical sites.
Dane County plans to fund the preservation and development of the land in hopes to conserve and improve recreation in the area. Additionally, funding will go towards creating accessibility for visitors.
When it comes to funding this purchase, Parisi stated that the land will be purchased using $484,700 from the Dane County Conservation Fund. Additionally, $4 million in Parisi's 2020 budget will go towards funding this plan.
Parisi described that the park allows for an opportunity for students and visitors to gain a unique learning experience about the county's history. Additionally, the investment will improve the property's exterior spaces to encourage year-round visiting while regulating the protection of the land.
Laura Hicklin, director of the Dane County Land and Resources Department stated, "There is a great potential for hiking trails and other outdoor recreation opportunities, so we want to preserve its historical significance while also developing the land around the school."
The Friends of Old Halfway Prairie School, a group that maintains the restoration and preservation of the school, ensures that the building is open and staffed. They also coordinate with school districts across the area to plan field trips. The school building is open for visitors on holidays and at 1 pm to 5 pm on Sunday afternoons from Memorial Day through Labor Day.
Through the purchase of land to expand the area around Halfway Prairie School, Dane County is moving forward in the preservation of Wiconsin's historical sites and education of young future generations.
[Sources: Wisconsin State Journal ; Dane County ]