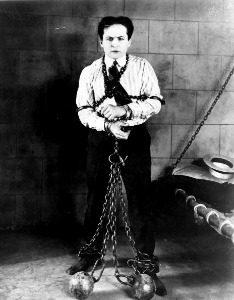 When one thinks of a magician, one might imagine card tricks or a guy pulling a rabbit out of a hat. The famous Harry Houdini did more than that, however: he was an escape artist.
Houdini was born March 24, 1874, in Budapest, Hungry. Born with the name ''Enrich Weisz,'' he was one of seven children. His parents, Cecilia Steiner and Rabbi Mayer Weisz, decided to move their family to America in 1876. They first moved to Appleton, Wisconsin, at the young age of 13, Houdini moved to New York with his father. While living with his father, Houdini took on small jobs like shining shoes or doing a paper route to earn money for his family. His early life was not very consistent, but that did not stop Houdini from pursuing his dreams.
Houdini started to perform professionally at the age of 17 with his brother Theo Weisz. He was inspired to change his name to ''Harry Houdini'' because of his nickname, ''Ehire'', sounded like ''Harry.'' When Houdini first started, his profesional magic career,, he performed at Penny Museums with his wife, Bessie. She was just the right size to slip in and out of the boxes and crates. Houdini spent years perfecting his tricks. His most famous one was escaping from a water torture cell.
Nobody quite knows how Houdini died, but there are theories of what might of happened. Some think he died due to a burst appendix, poison, or from a punch in the stomach. What is certain is that he died on October 31, 1923, at the age of 52, in Detroit, Michigan. After his death, Houdini's props were used by his brother, Theo and later sold to a collector. Then the props were displayed in a museum in Wisconsin, before they were auctioned to magician David Copperfield.
An escape artist, magician, and mystery, Houdini was many things. Most importantly, he was a legend.
[Source: Biography.com ]