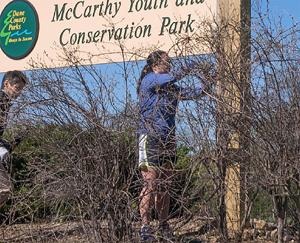 The McCarthy Youth & Conservation County Park is a spacious park in Cottage Grove that offers many activities for families and friends to enjoy. The park's 285 acres of land features equestrian trails, hiking trails, camping sites, sledding hills, snowshoe trails, cross-country ski trails, picnic areas, and archery areas.
In 1974, Russell and Ella McCarthy donated the 180 acres that originally made up the park. The McCarthys wanted the property to be used by youth. Their vision was to engage young people in outdoor activities. Later, Dane County added 105 acres to the park through multiple land purchases.
Many community organizations work together to create and offer the variety of activities available to the public at McCarthy Park. Volunteers are a huge part of the park's programming. One event hosted annually at the park is Candlelights: participants ski, hike, and snowshoe at night on snowy trails. Additional events include Snow Day, at which volunteers teach people how to cross-country ski, ride in a horse-drawn sleigh, and more. Events like these offer free amenities such as hot chocolate, s'mores, coffee, and admission.
The McCarthy Park also offers educational opportunities like learning about the Ho-Chunk by touring a wigwam and fields of vegetables; provides a mini free library; and hosts trips through its educational garden.
The McCarthy Youth & Conservation Park is a wonderful place for the greater Madison community and people with varied interests. There really is something for everyone to enjoy.
[Source: Dane County ]