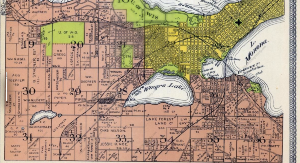 Have you ever wondered how the Odana Pond came to be?
The Odana Pond, which is located in the Odana Hills Park, was created by ice chunks during the glacial period around 10,000 years ago. The pond is believed to have been larger around 2,000 years ago due to the wet period. The Odana Pond never had an official name; it has been called Bacchus Pond, Hammersley Marsh, along with many others.
North of the body of water, it seemed that Native Americans visited the pond frequently. Mounds and artifacts created by them had been discovered around the area.
In 1949, a two-lane road was built south of the pond. Since then, the two-lane road became the Beltline highway. The expansion of the road reduced the pond's size. This pond is shallow and is now about four to five feet deep.
The pond has been through many changes such as the increase of the watershed to Lake Wingra by 38 percent. The pond has also been polluted with chlorides, most of which is road salt. The Odana Pond has been a long lasting land feature, and we should work to maintain its original state.
[Source: History of Wisconsin Geography ]