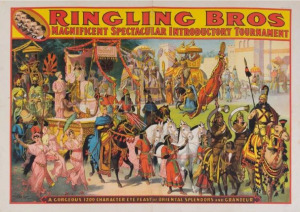 The Ringling Brothers Circus was one of the best circuses ever, and it all began right in Baraboo, Wisconsin!
Founded in 1884, the Ringling Brothers Circus was a circus of seven brothers: Albert, Alfred, Charles, Gus, Henry, John, and Otto. In 1882, as children, they started as a five-brother backyard circus. The two youngest brothers, Gus and Henry, joined the family business in 1884. They were inspired to start a circus after seeing one in Iowa.
In their early circus acts, the brothers often played instruments, sang and danced. Whatever money they made they put back into the circus; their first investments were top hats and evening suits.
Each brother had his own responsibility: Alfred handled publicity; Albert picked acts; Gus arranged advertising; Charles produced the shows; Henry attended each performance; Otto managed the money, and John supervised transportation. John also helped ensure that the Circus wouldn't be in the same town at the same time as their competitors.
The brothers' biggest competitor was a circus called Barnum and Bailey, who they met in 1895 while performing in the same city in New England. By 1900, the Ringling Brothers were one of the biggest traveling shows in America. After the United States entered World War I, the both circuses lost a lot of employees, and many audience members joined the war. When this happened, The Ringling Bros and Barnum and Bailey circuses decided to combine shows.
In 1967, the Ringling family sold the circus to the Feld family. However, when they bought, it the Feld family decided to keep the Ringling brother name for the brand.
After over 130 years of wonder, the Circus held its last performance in 2017.
[Sources: Wisconsin Historical Society ; New York Times ]