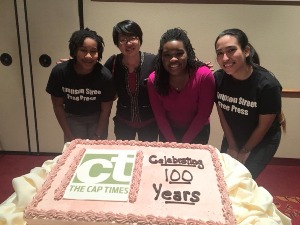 The Capital Times , founded by William T. Evjue, turns 100 years old this year. Current editor emeritus, Dave Zweifel, is proud of the newspaper's long and rich history. In fact, Mr. Zweifel refers to The Capital Times as Madison's proudly radical newspaper.
The Capital Times started during WWI. At the time, the Wisconsin State Journal supported our nation's engagement in the war and encouraged young men to fight overseas. William Evjue, business manager at the State Journal and a progressive, opposed that idea. Supporting the ideas of former U.S. Senator, Robert M. La Follette, Evjue launched his own newspaper. The Capital Times was anti-war and progressive. In its early beginnings, the front page sported headlines such as, "BROTHER OF MADISON DIES IN BATTLE," and "DOG STARTS SCARE AT SUN PRAIRIE." Radical stories about family matters, the ongoing war, education, and Madison life filled its 16 pages. Readers purchased the papers for two cents.
· · ·
Dave Zweifel, born in 1940, first aspired to become a journalist when he was in 8th grade. He started his own newspaper in his hometown of New Glarus. He would print his paper weekly and sell it. Zweifel looked up to Evjue's work.
"Because I was a fan and my folks were fans of The Capital Times , I would read it every day. I really liked Mr. Ejvue's column, so I would send him a copy of my paper every week."
Evjue liked Zweifel's work as a young and aspiring journalist so much that he wrote a story on him and his student-produced paper. Zweifel was only in his junior year of high school at the time. In 1962, after Zweifel graduated from UW-Madison School of Journalism, Evjue offered him a job at The Capital Times . Zweifel worked as a farm reporter for a year. Mr. Zweifel also served in the Army during the Vietnam era, although he did not see combat. When he returned, he covered local government, the state legislature and various police investigations. During our interview, Mr. Zweifel gave us lots of good advice. He told us that in order to be a good reporter you should always look for new and engaging story ideas. He emphasized to us the importance of learning to write well.
In recent years, The Capital Times has reduced coverage of breaking news like police investigations, and focused its attention on what government officials are up to.
"The most important role of journalism is the watchdog function," said Zweifel. "You need to go the extra mile to look for things that aren't so evident."
Print newspapers, including The Capital Times , have had to cut down on staff and in RESULT, cutting down the coverage. While The Capital Times , has stopped covering things like police investigations, they remain relevant and important by digging in and providing readers with high-quality, long-form journalism. They continue to take their watchdog role very seriously.
Mr. Zweifel remembers a once full 65-reporter staff at The Capital Times . But a dramatic decrease in reporters is something the whole newspaper industry must deal with and adjust to. So The Capital Times made the decision to go digital when the circulation dropped. This decision has helped The Capital Times operate almost like a daily paper. While they still print a weekly hard copy edition, readers can go online for daily news and comment.
Mr. Zweifel continues to write a column called Plain Talk and The Capital Times continues to give readers a clear look into our political world.
· · ·
"Let the people tell the truth and the freedom to discuss it and all will go well." It is an expression we use a lot here at Simpson Street Free Press. Meant to point out how important journalism is, the expression is actually a quote from William T. Evjoe, founder of The Capital Times . In today's world of changing media, it is a good quote for young people to know and think about.
[Sources: The Capitol Times ; Dave Zweifel ]