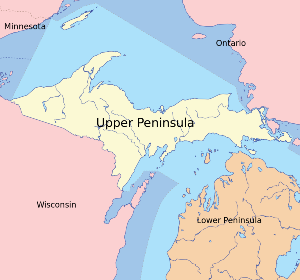 Outside of the Midwest, The Upper Peninsula is by all accounts a puzzle to a significant part of the U.S. populace. Shockingly, even to the absolute midwest, it is normal to imagine that the Upper Peninsula is a piece of Canada; and some of the time course readings do not have the foggiest idea what express the Upper Peninsula is in. The vast majority accept that the Upper Peninsula is bordered by water in other locations.
The Upper Peninsula, called Upper Michigan, is northern of the two noteworthy landmasses that make up the U.S. province of Michigan. The landmass is limited on the north by Lake Superior, on the east by the St. Mary's River, and on the south by Lake Michigan, the Straits of Mackinac, and Lake Huron. The base of the Upper Peninsula, a geologic component, lies in northeastern Wisconsin between the base of the Door Peninsula and Superior Bay. The promontory inside of the limits of Michigan is estimated eastbound from the Porcupine Mountains to the Wisconsin-Michigan boundary along the Montreal and Menominee waterways.
The Toledo War
The Toledo War was based on the distribution of the toledo strip, during the mid-1800s there was an uprising struggle among Michigan and Ohio. During that time, Ohio was at that point conceded into the association while Michigan was still in Territory. The contest during the Toledo War started with various translations of the geographic limits and highlights between the province of Ohio and Michigan region. The two governments were asserting sway over a 468 square mile locale, which wound up known as the Toledo Strip. Until the year 1818, the Michigan region had responsibility for the eastern segment of the Upper Peninsula. The region at that point extended to incorporate the remainder of the upper promontory, the whole territory of Wisconsin and different pieces of the Midwest. Because of money related emergency, the Michigan Territory was experiencing tension from congress and President Andrew Jackson, so, all in all, the Michigan Territory acknowledged goals from the legislature.
[Source: Wisconsin State Journal ]