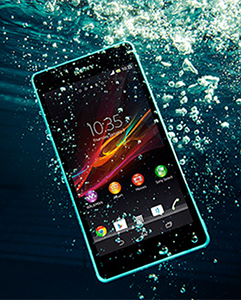 Did you think our generation's technology would ever go waterproof? I didn't. So many cell phone and tablet users seem to lose their devices to liquid-related incidents. To combat this problem, some companies have recently come out with waterproof phones.
The leader in the waterproof game is Sony, a technology company that has recently produced a waterproof tablet, camera, and smart watch. Though Japanese consumers are already used to waterproof phones, these are new developments for American consumers. Among several waterproof smart phone models recently released by Sony in the U.S. are their flagship model, the Xperia Z, which is safe in up to three feet of water for 30 minutes. The Xperia Z is thinner than the Samsung Galaxy S4, a popular Sony product, and it is only one one-hundredth of an inch thicker than the iPhone 5.
Another company that has released waterproof products is Samsung, which just developed the Galaxy S4. Sony and Samsung phones are similar when it comes to customers rating their waterproof products.
One mobile company that has yet to go waterproof is Apple, but many expect that this trend-setting company will join the waterproof business soon. In the meantime, Apple has released a light LifeProof case that protects phones and other devices from spills and liquids.
These advances in technology are likely to satisfy customers who are looking to mix their devices and liquids without facing disaster.
[Source: Time Magazine]